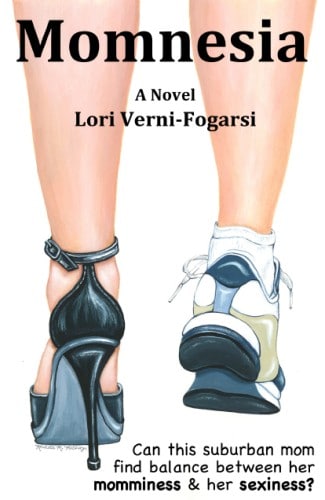 I was excited to receive a copy of "Momnesia" in exchange for a fair and honest review. Not only that, but it's all part of a fun giveaway event called the Sizzling Winter Blog Hop & Treasure Hunt!
When I first started to read Momnesia, I wasn't completely sure I was going to like the book. It's outside of my normal reading genre, and the first couple of chapters moved a little slow. By the time I finished the book, I was sad to see it end and am looking forward to the sequel that the author, Lori Verni-Fogarsi, has planned.
Momnesia is the journey of a woman with many hats: wife, mother, business owner, friend, seeking to discover who she is. Her identity has become lost in the myriad of roles that she fills. I found myself empathizing with her more and more. Ms. Verni-Fogarsi has an uncanny way of delivering some of the more frustrating aspects of motherhood with intelligent humor and realistic optimism. I found myself cheering her on, eagerly awaiting the moment when she would feel fulfilled and restored.
The more I read this story, the more I realized some of my own Momnesiac tendencies. I frequently find that I sacrifice my own needs in order to care for someone or something else. While I don't regret becoming a wife or a mom, there are times that I miss aspects of my former life. I think that's what made it easier to relate to this character. The surprise at the end of the book absolutely made me think about how we view moms in general – and how I could have missed something so obvious. Although I'm relatively conservative and didn't agree with everything this character explored to find herself, I can relate to her journey. Every mom owes it to herself – and her daughters – not to lose sight of the individual she is. It's no surprise, then, that my treasure hunt clue: SANITY is something we should all work to maintain.
If you'd like to purchase the book for yourself or as a gift, you can order it easily on Amazon.
And now on to other fun! There are tons of prizes you can win! First, enter my giveaway to win a 13-week subscription to Meals by the Week.  just below. Then, go to the main treasure hunt–the grand prize is a $100 Amazon Gift Card! Click here to go to the main treasure hunt.  Just find The Mom's Resource on the treasure hunt list and enter my treasure hunt clue: SANITY. You'll be entered to win a $100 Amazon Gift Card! You'll also find links to the many other sites so you can find their clues too, and receive extra entries! Plus, every site is having their own additional giveaway! (Are you thinking "Woo Hoo" about this Blog Hop/Treasure Hunt? Because I sure am! How cool is this?!)
First, enter my giveaway. Please give it a moment for the entry form to load. Good luck!
Next, click here to open the main treasure hunt entry form.  Input The Mom's Resource secret treasure hunt word, then be sure to visit all of the other sites to find theirs too! (Don't worry, all of the links are on there.)
Thanks for playing! I hope you enjoyed the book review and wish you luck in the giveaways. Have fun with the treasure hunt!
If you enjoyed this, please share with your friends. Thanks!